The contest to win a copy of Handwoven Table Linens by Tom Knisely is open until midnight, December 13th!  To enter, go to last week's blog post, here.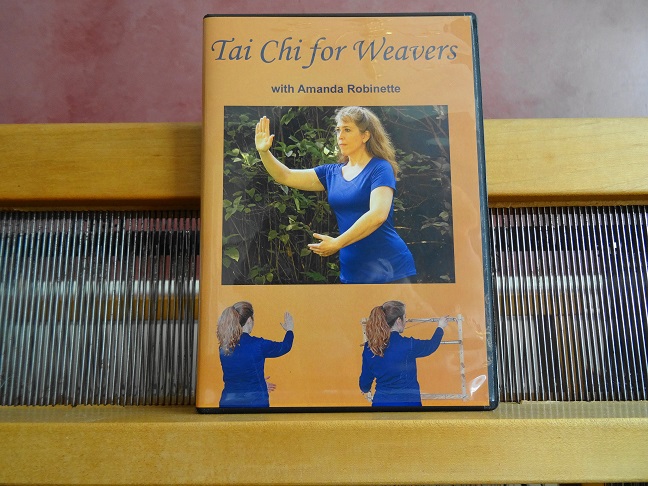 Tai Chi for Weavers on DVD
As many of you already know, some years ago I created a Tai Chi exercise set based on connections I made between Tai Chi and weaving as I was learning, practicing and teaching both arts.  I have taught Tai Chi for Weavers (TC4W) in workshops at guilds and schools, and am now offering it in DVD format.
For those of you who may not know much about Tai Chi, it is a Chinese martial art that, today, is mainly practiced for health maintenance and injury prevention.  The exercises are generally practiced as forms, which are series of slow movements designed to foster inward focus and concentration, as well as engaging all of the parts of the body to increase strength and flexibility.
I learned Tai Chi from a teacher who believes in practicing fundamental exercises to improve performance in Tai Chi.  Fundamental exercises break down Tai Chi movements into smaller parts that can be practiced, just like the moves in any sport (lay-ups in basketball or serves in tennis, for example).  In our Tai Chi school, we offer classes in Tai Chi forms, but also classes that are only composed of these fundamental exercises, which are popular with seniors and with adults who, for whatever reason, don't want to try to learn forms.  These classes offer an approachable way of exercising and learning a better way to move the body.  The exercises are adaptable in intensity and motion to suit people with many different body issues.  As you can probably tell, I really enjoy teaching this method because it provides a way to help people at whatever starting point they find themselves, and how they use the program can grow with their abilities.
Tai Chi for Weavers includes only these fundamental exercises and can be practiced by anyone who weaves.  I selected the exercises based on weaving movements.  The exercise program opens with a brief introduction and a set of warm-up stretches and movements.  This is followed by three sets of exercises targeting beating, warping the loom, and winding the warp.  Next comes Qigong self-massage of the arms, neck and shoulders, ending with deep breathing.
Each exercise is fully explained and demonstrated in the program, as well as the connections between the exercises and weaving movements.  After you have watched the program and feel comfortable doing the exercises, you can select "exercises-only" and skip all of the talking.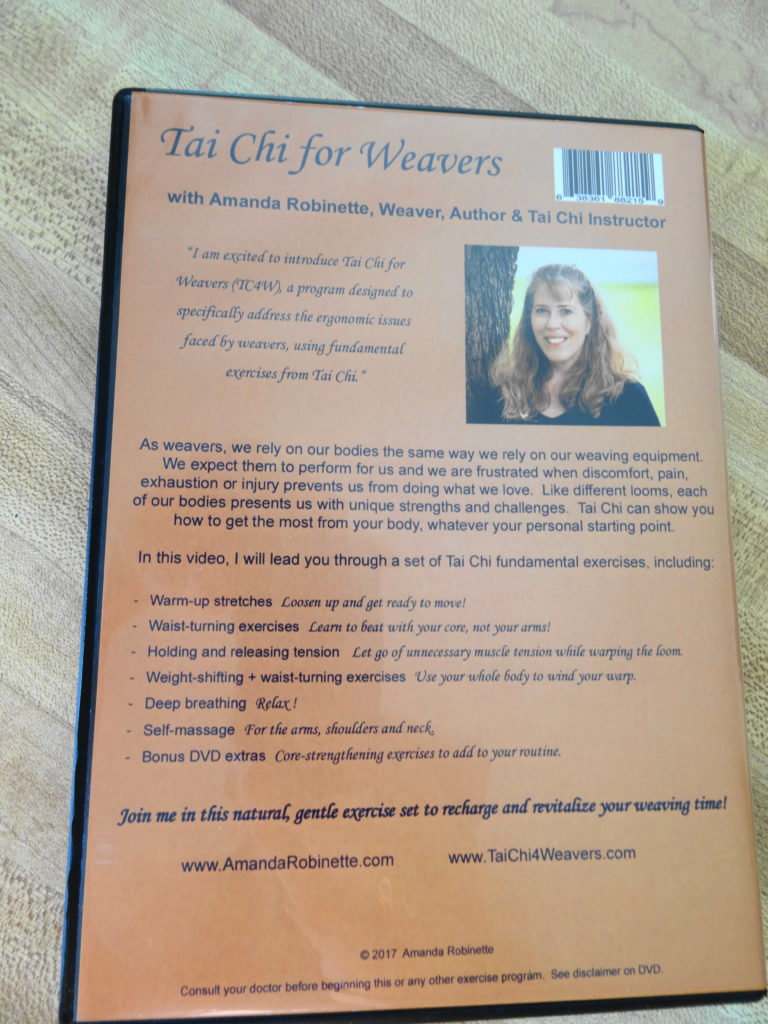 TC4W was filmed in a studio overlooking the beautiful Susquehanna River, with views of wildlife, kayakers, and the famous Rockville Bridge, which is the longest stone masonry arch railroad viaduct in the world.  The music was composed and performed by my brother-in-law, Andrew Robinette, D.M.A. (Assistant Professor of Music, South Dakota State University), especially for the DVD.
To order your copy (or for someone on your holiday gift list!), email me at westernsakiori@gmail.com with your PayPal email address, or you can let me know that you would like to pay by check or credit card and I will get in touch with further instructions.  The cost is $20 for the DVD, plus $4 shipping and handling, which covers first-class mailing in the U.S.  (Shipping may vary for other locations.)
Stores that would like to place wholesale orders, or guilds, conferences or schools interested in hosting a workshop, may get in touch with me at westernsakiori@gmail.com.  Include your name and phone number if you would like to speak to me.