I have a few classes lined up this year so far.  I have had some weaving guilds contact me and ask me if I am willing to travel to teach–the answer is yes, if we can find a date that works with my schedule and other commitments.  I recommend emailing me using the contact form on the website so we can discuss the details.
I can combine Tai Chi for Weavers as an evening class with either of the other classes described below to make a full two-day curriculum.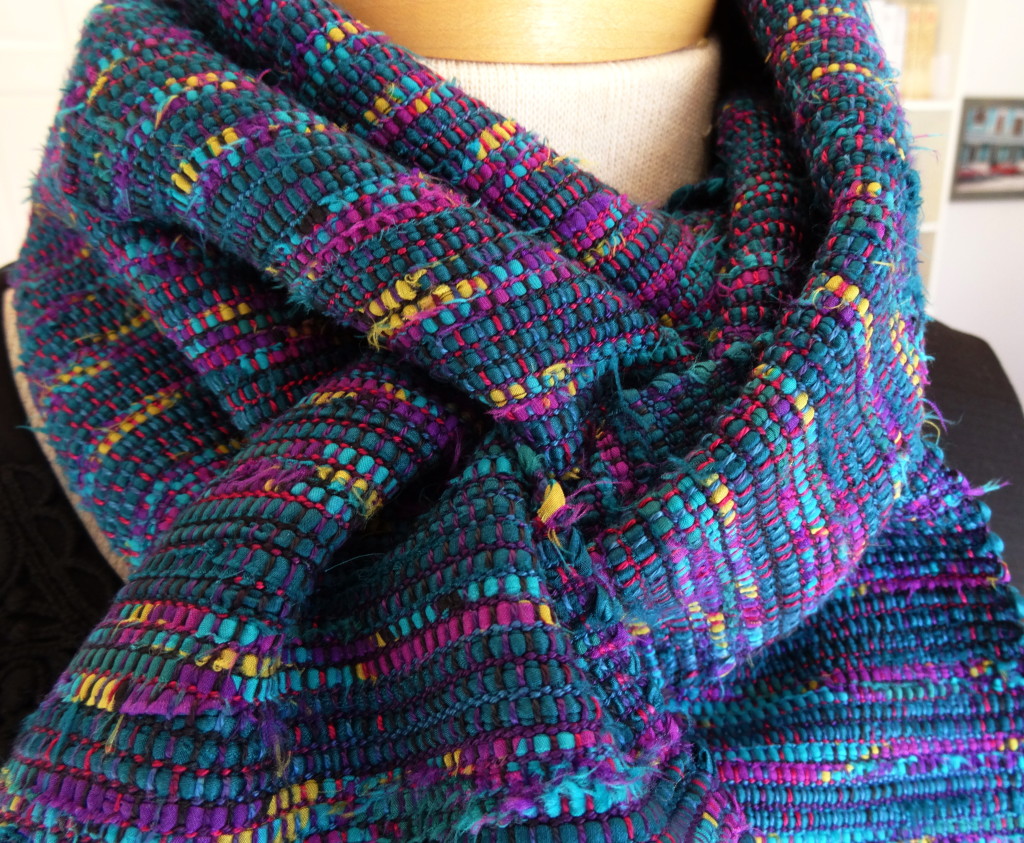 Course Description:  This is a two-day class during which students will make a sakiori scarf from their own silk fabric.  After learning about the history and use of traditional sakiori fabric in old Japan, we'll talk about how to use the discarded luxury materials readily available to us in North America to make our version of sakiori.  The class will cover rag preparation, weaving, and finishing techniques.  Information will be sent prior to class to guide students in their rag selection.
April 18-19, 2015 at The Mannings in East Berlin, PA
Course Description:  This two-day class covers rag preparation, weaving and finishing the rugs.  Students will learn how to prepare the t-shirts using the technique I developed to produce a stable weft material that makes even selvedges and a firm, durable rug.  These are the same t-shirt rugs that are included in Tom Knisely's new book, Weaving Rag Rugs (Stackpole Books, April 1, 2014), and in the September/October issue of Handwoven magazine in the article, Perfect Marriage T-Shirt Rug.
      July 28-29, 2015 at The Mannings in East Berlin, PA
Tai Chi 4 Weavers is a 1-1/2 hour seminar designed to show you how to use your body in a way that makes it work better for you.  After a brief introduction to familiarize students with tai chi, we'll start with some gentle warm-ups.  Next, fundamental exercises will teach you how to approach measuring the warp, threading the loom and weaving in a whole new way.  We'll finish with some relaxing deep breathing and Qigong self-massage for the shoulders, neck and arms.
No special clothing is required and there are no floor exercises.  Every student will leave with a detailed worksheet so they can practice the exercises on their own.  COMING SOON, a DVD will also be available for purchase.
March 4, 2015, 1-2:30 at The Mannings in East Berlin, PA
April 1, 2015, 1-2:30 at The Mannings in East Berlin, PA
April 25, 2015, 1-2:30 at The Mannings in East Berlin, PA