Win a copy of Tom Knisely's latest book, Handwoven Table Linens!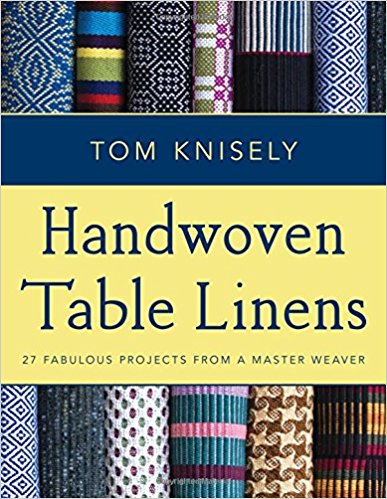 Do you need some holiday gift inspiration?  Whether you are a weaver making gifts, or have a weaver on your gift list, Tom's latest book is here to help.
For weavers, Handwoven Table Linens is like a sampler of different weave structures.  Twenty-seven projects in 4- and 8-shafts encompass techniques such as summer and winter, false satin, overshot, shadow weave, canvas weave and Quigley.  For intermediate and experienced weavers who prefer to learn by doing, they provide a simple way to try new things.
Anyone weaving for a holiday table will like the Finnish Trees place mats, with their subtle, abstract pine border.  Other projects include table runners, napkins, a tablecloth, and mug rugs–everything you need to dress a bare table.  Tom points out that, by choosing colors and patterns that complement the dishes on the table, you can create one-of-a-kind, personalized textiles that are exactly right for the people on your gift-giving list!
Each project lists the warp and weft yarns, sett, total number of ends, and width.  The weaving instructions are provided in the threading, tie-up and treadling charts.  (Beginners should be aware that this book does not include warping instructions or information for planning and making calculations for warp length.)
As always, Kathleen Eckhaus really delivers on the photographs.  Clear, beautifully staged project photos include at least one close-up of each piece, showing both front and back when relevant.  Additional photos, such as the one found on the title page, create an inviting and homey atmosphere in which to peruse this book.
One lucky winner will receive a free copy of Handwoven Table Linens!  (Courtesy of Stackpole Books, the publisher.)  To enter, comment on this post (click on 'comments' in the small blue menu at the top of the page) with the type of table linen you would like to make (or receive) next (i.e. place mats, table runner).  I have put the first comment in to get the ball rolling (although I am, of course, not part of the contest).  Entries will be accepted until midnight on Wednesday, December 13, 2017.  The winner will be randomly selected and announced on this site.  Good luck!