Last time I wrote I was on my way to Convergence to take John Marshall's class, Hinagata: Working in Miniature Dye and Sewing Traditions.  The class focused mainly on katazome and garment design.  Katazome, for anyone not familiar with it, is dyeing fabric that has had a rice-paste resist applied to it through stencils.  The stenciling and dyeing can be applied in multiple layers, with the dyes painted on for very detailed effects (click here to see some of John's work).
Although I found katazome interesting, the main thing I got out of the class involved garment design.  I have just begun designing and sewing garments from my sakiori fabric and have been having trouble crafting an approach to bring together some of the principles of Japanese sakiori garment construction (such as not cutting the cloth) and modern fashion sensibilities.  John is an innovative designer with a very fluid and creative approach.  His lectures on garment design, the examples he brought, and his generosity in giving me some of his time after class to address my particular issues have given me a lot to think about and a road map for how to proceed in the immediate future.
As I mentioned in the last post, I left Providence the day Convergence really got started.  I know that I missed out on a lot of great opportunities, but one week was really all I had to give from my schedule.  Another year I will be sure to attend without taking all my time up with one class.
There were some really nice people in my class and one of them was kind enough to invite me to spend a couple of evenings seeing Providence and having dinner with her and her husband.  I so appreciated her reaching out to me since I was there alone and didn't know anyone–it's much more fun to eat out and take walks in the evening in Providence when you are with others!  (Thanks, Louise!)
We attended an event called Waterfire Providence that is held along one of the rivers.  This is an ongoing art project involving music and bonfires that are lit in the middle of the river.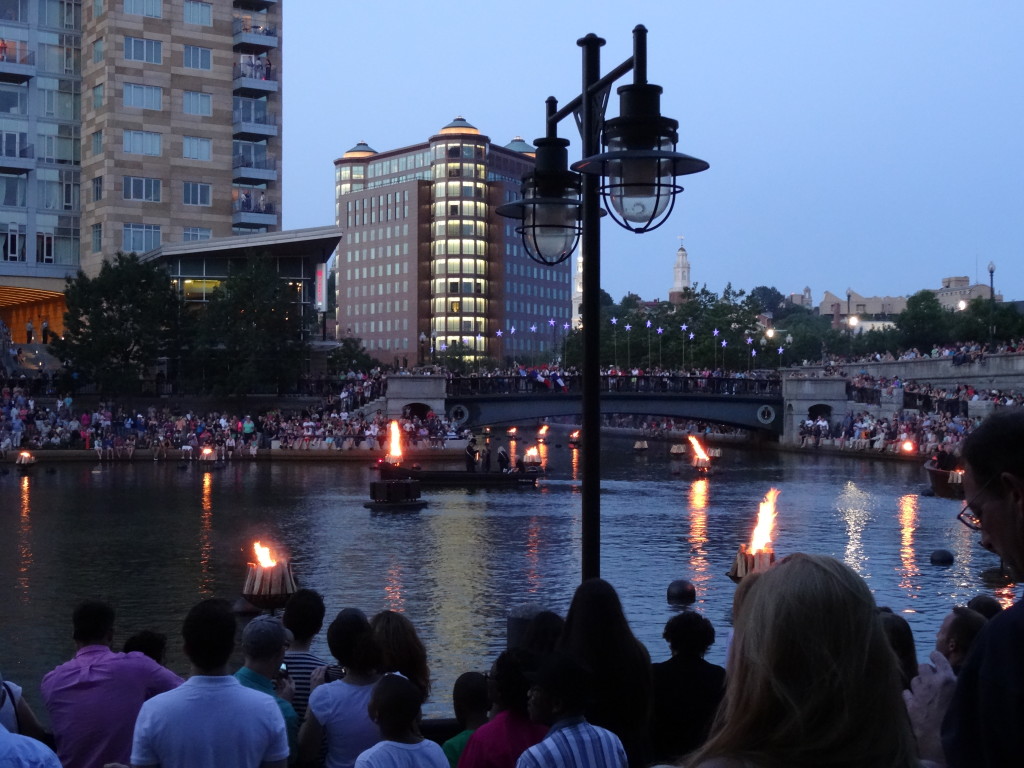 Torchbearers in boats slowly circle, lighting the fires.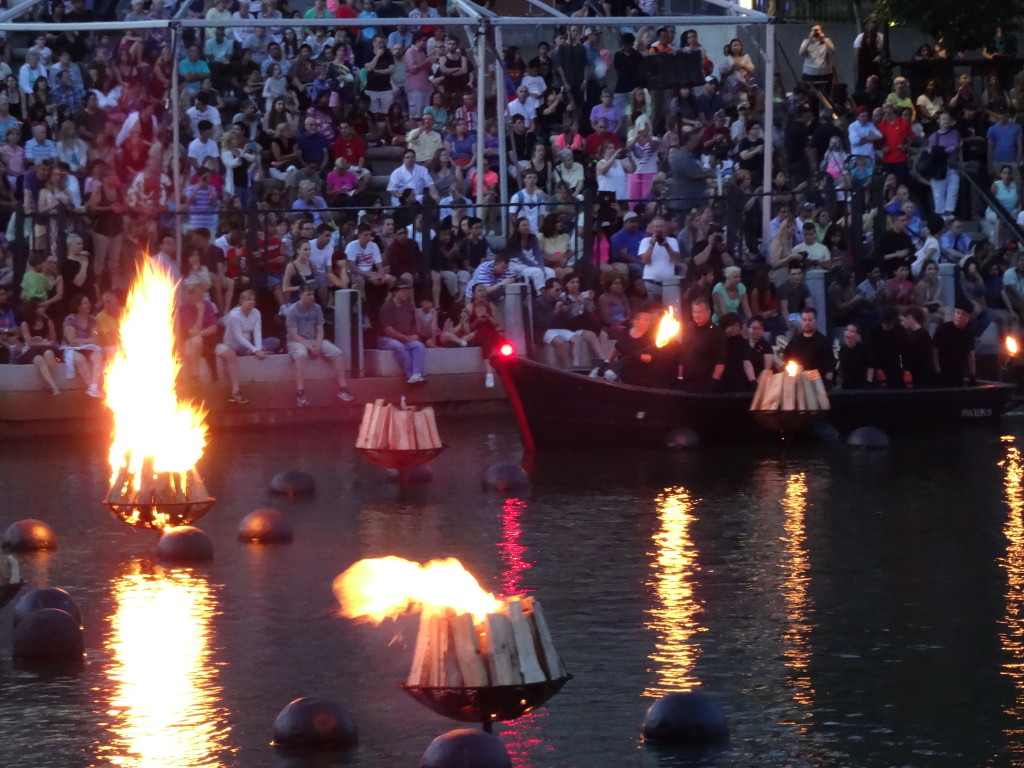 It was an unusual and interesting spectacle–and way better than sitting in my hotel room again!
Here are some 'before' shots of the riverfront I took when I went for a walk after class.  You can see the firewood stacked and ready to be lit in the first one: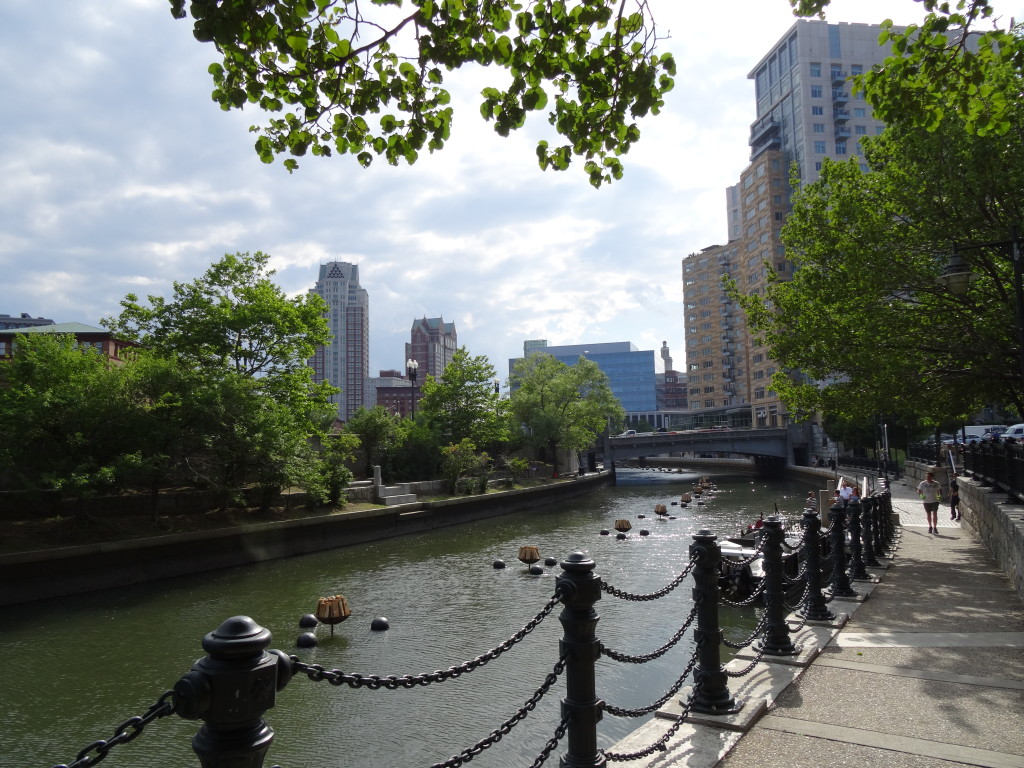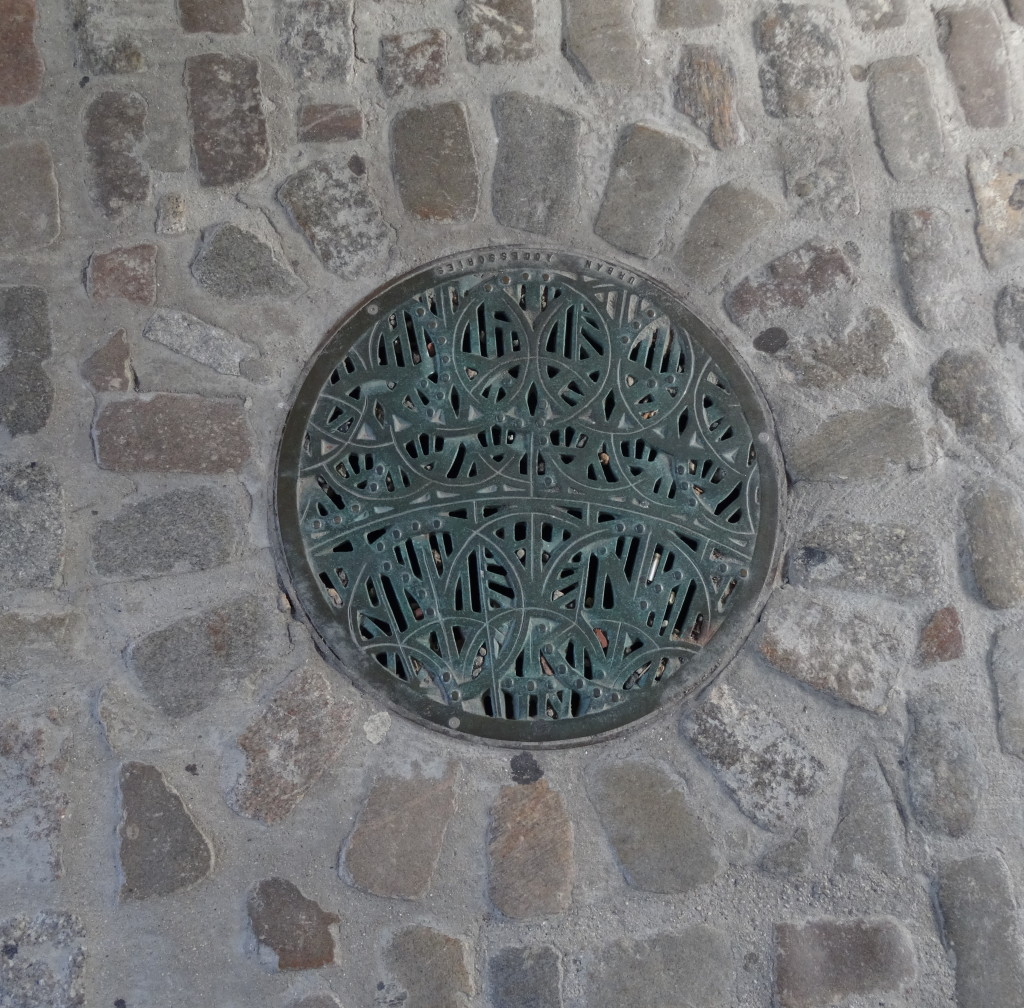 After the last day of class, I took a day to play tourist.  I visited the state capitol, which was only a few blocks from the convention center and has a Gilbert Stuart portrait of George Washington (a pleasant surprise).  Then I headed over to the Rhode Island School of Design Museum for the real highlight of my day.  It is a gem of a museum in an interesting building with a collection that ranges easily from ancient Greek, Roman and Egyptian pieces to Impressionism to contemporary art and graphic design.
Amidst everything I found inspiration:
I especially loved the stole that went with this dress designed by Cristobal Balenciaga in 1955 for Elizabeth Parke Firestone.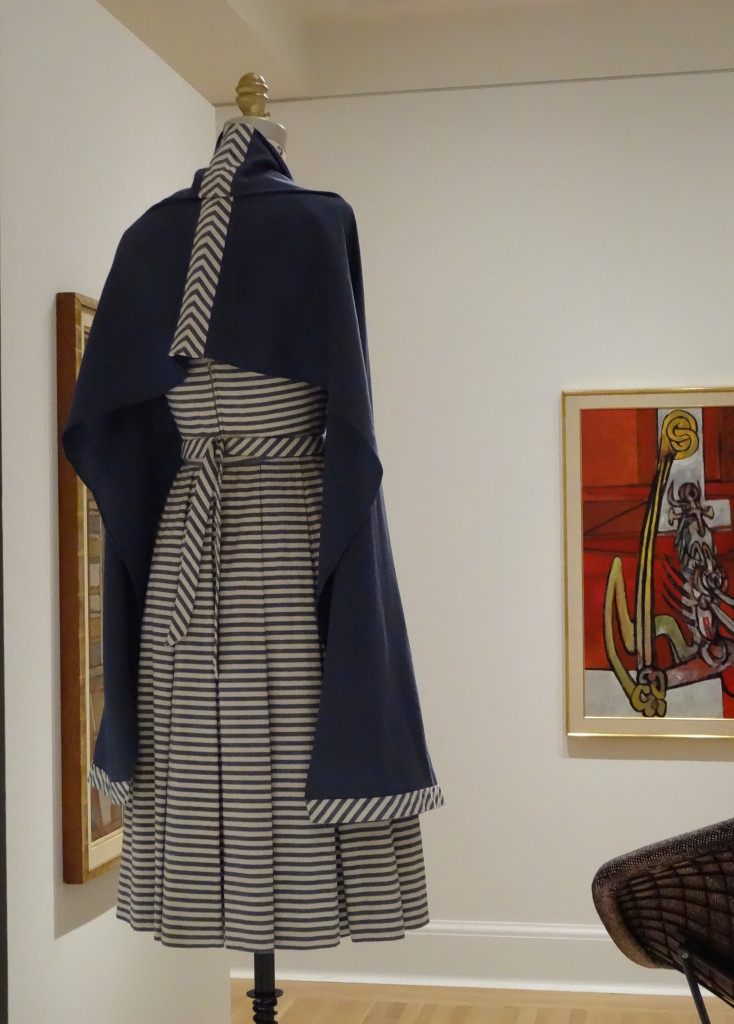 After RISD, I strolled around the Brown University campus and in my wanderings discovered the small Anthropology Department museum.  Inside was this huge piece of resist-dyed cloth from the grasslands of Africa: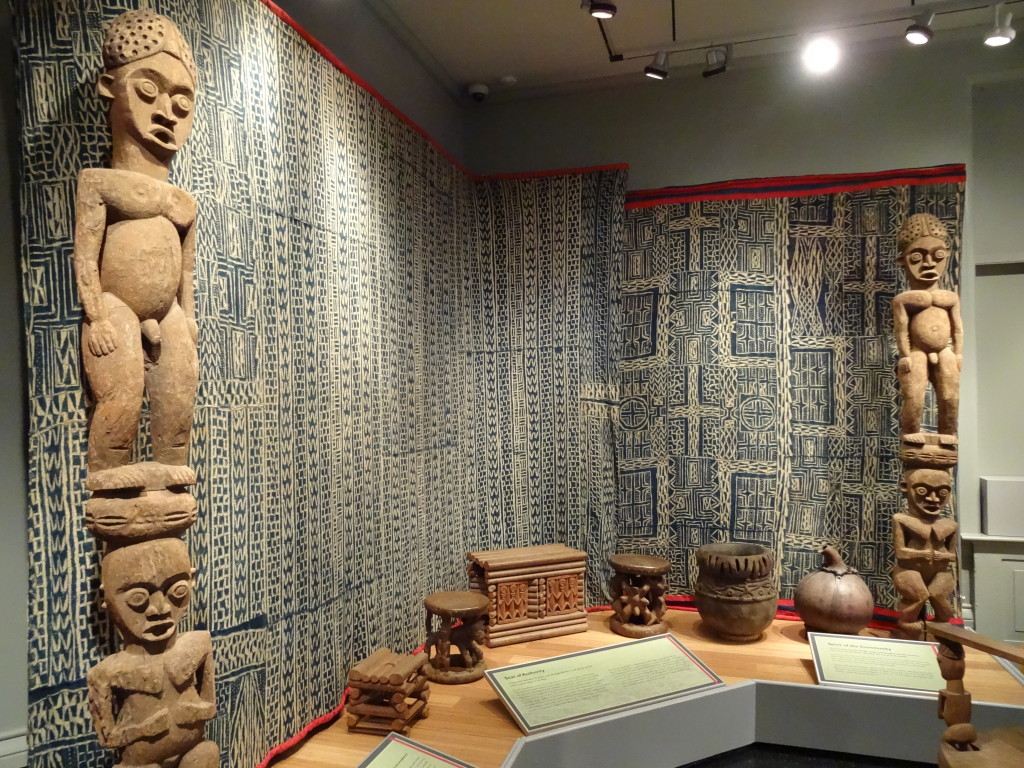 It is called a Ndop cloth and was first produced in the early 20th century as a statement by African leaders about their separation from colonial powers.  Its meaning has evolved so that now, wherever the Ndop cloth hangs is considered to be the palace itself.  It is made by stitching raffia fibers into the fabric before dyeing with indigo, then removing the stitches to reveal the many patterns.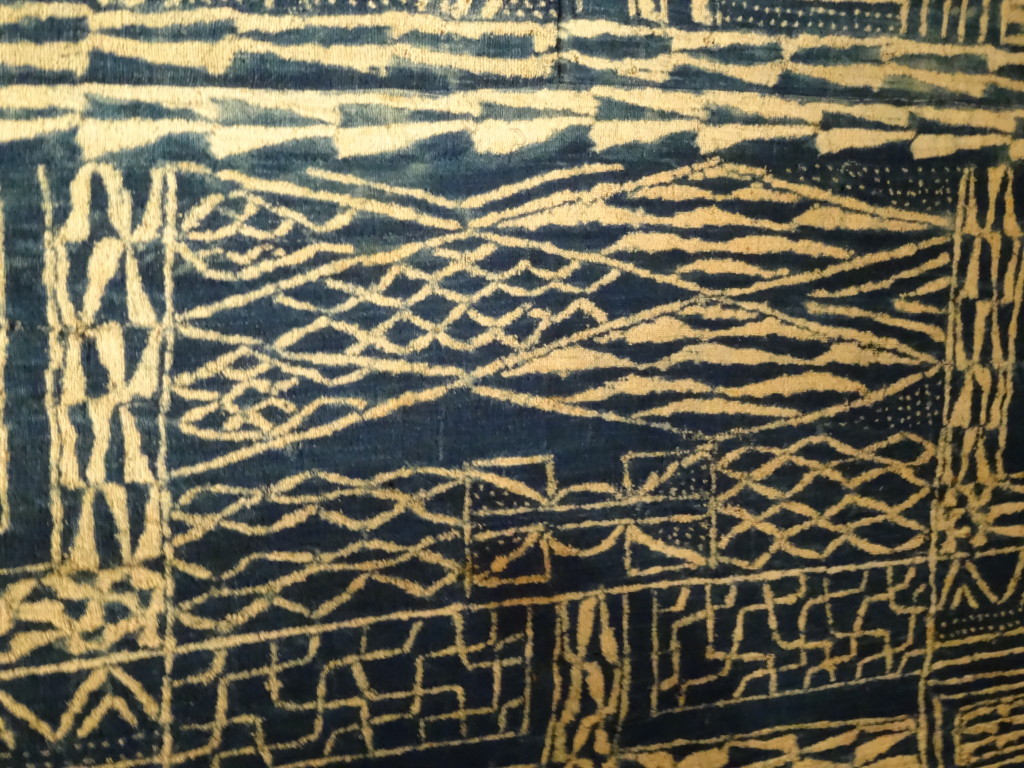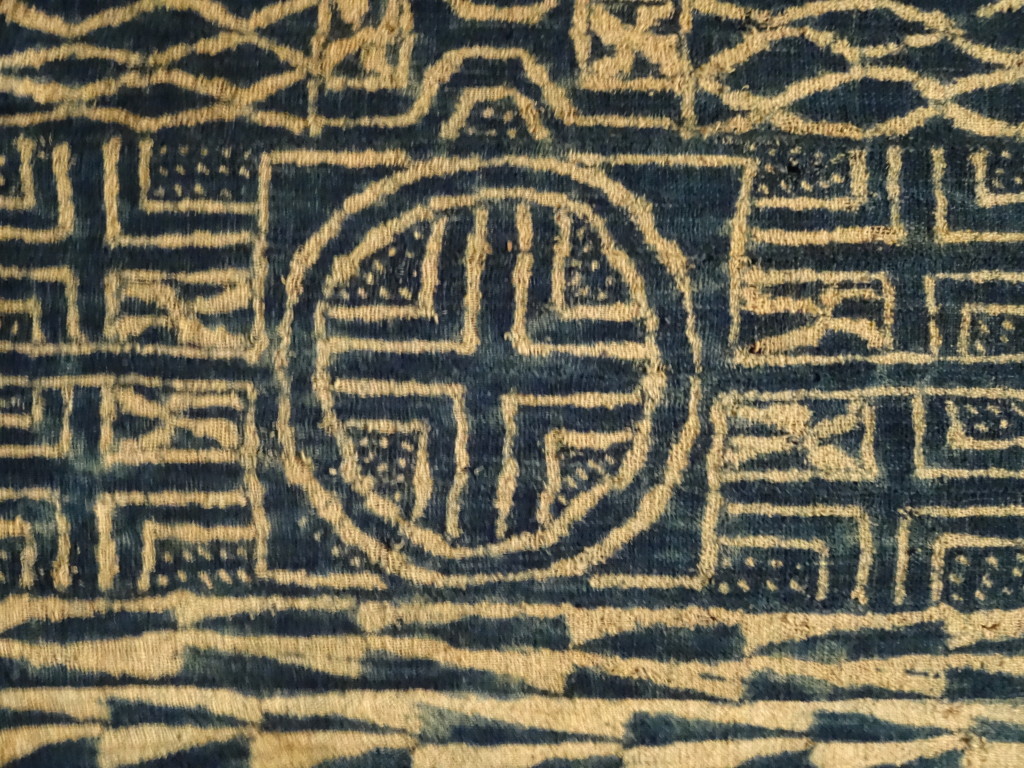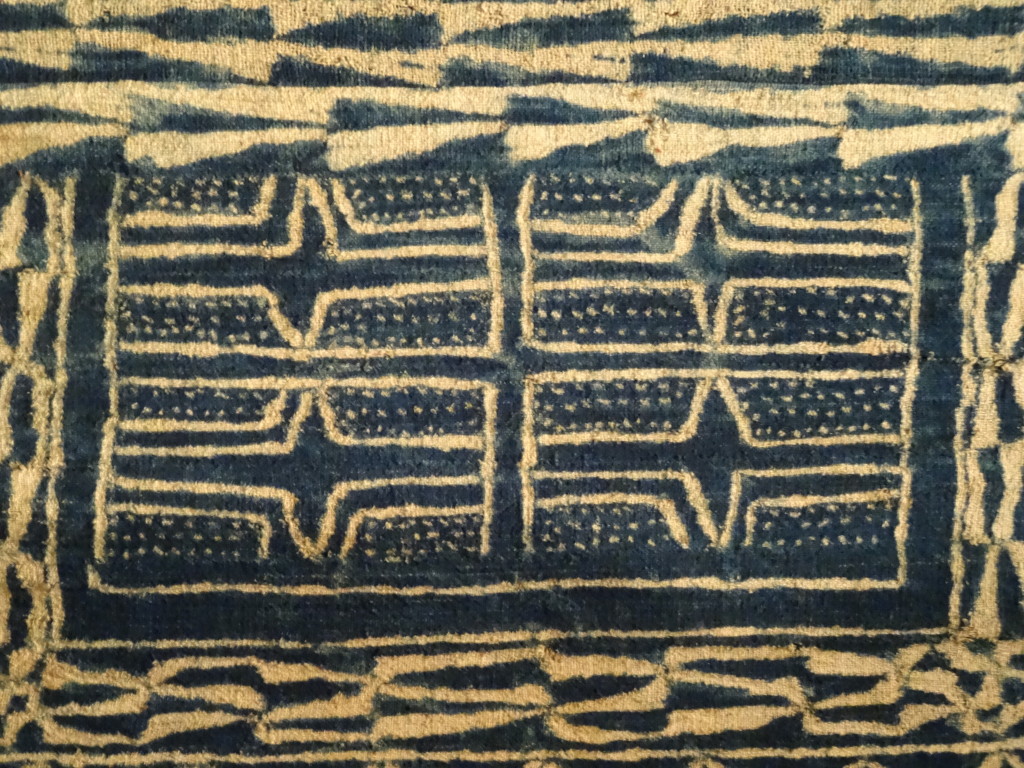 It was interesting to see this resist-dyeing technique after having spent the last few days learning about katazome.
And last but not least, please check out my project article, Perfect Marriage T-Shirt Rug, in the September/October issue of Handwoven magazine!  It's my first Handwoven article (but not my last).  To learn more about my t-shirt rugs, click here.